Speaking engagements
Please find upcoming speaking engagements below. For guest lectures and workshop inquiries, email andrea (at) creativeresco.org.

June 8-10, 2023
Healing-centered art and design: a practice for personal and collective transformation
The 2023 HASTAC conference invites communities to engage with creative and design-based approaches to technology and education, particularly around issues of social justice and allied movements of design justice, data justice and data feminism, algorithmic accountability, (digital) literacies, open knowledge, and accessibility in all its forms.
︎ Learn more and sign up for this talk here
.
March 3, 2023
Critical UX: Challenging the Dogma of UX

Whether it's designing for delight or usability, designers are primed to address the pain points of their users. But when we only focus on individual-level problems, we can fail to account for the complex and even contradictory needs of the communities, governments, and ecosystems we're embedded in. A panel moderated by Alba Villamil, featuring Cyd Harrell, Dr. Madhuri Karak, and Andrea Ngan.
March 31, 2023
Visual Practices & Experimental Geographies

A panel moderated by Forest Kelley, Assistant Professor, University of Kentucky.

I joined James A. Enos in conversation with his past and present collaborators: Charles G. Miller, Annie Simpson, Stephen Ramos, and David Kim.
November 6, 2022
Design Philadelphia

The City of Philadelphia's Equitable Community Engagement Toolkit: Towards a Shared Vision and Practice

In this session, the Toolkit team will share a presentation about how they've approached collaboratively designing and implementing equitable practices across City agencies and community members. The team will then invite participants into a discussion centering on accountability in equitable community engagement.

Virtual Event
DesignTO Symposium: No Such Thing as Normal

DesignTO's seventh annual symposium brings 11 multidisciplinary experts together to discuss how we can dismantle the long-accepted idea of "normal," in order to design for diversity, specifically in the context of a global pandemic. Speakers include Zahra Ebrahim, EDIT Collective, Eman El-Fayomi, Tiyondah Fante-Coleman, Laura Forlano, Esmond Lee, Andrea Ngan, Simone Shahid, Jay Shaw, Mona Sloane, and Jutta Treviranus, covering inclusive design, unlearning, artificial intelligence, co-creation, healthcare, post-pandemic design, and other thought-provoking topics.
January 20 2022, 6 PM–7:30 PM
AIGA New York: Dome Making a Seat at the Table
Join Katie Lee and Lynn Kiang, co-founders of Dome as they share the process of making Seat at the Table, a public exhibition that highlights the current state of gender inequity in America and a reminder of the ongoing struggle by women since gaining the right to vote over 100 years ago. This event will be moderated by Andrea Ngan.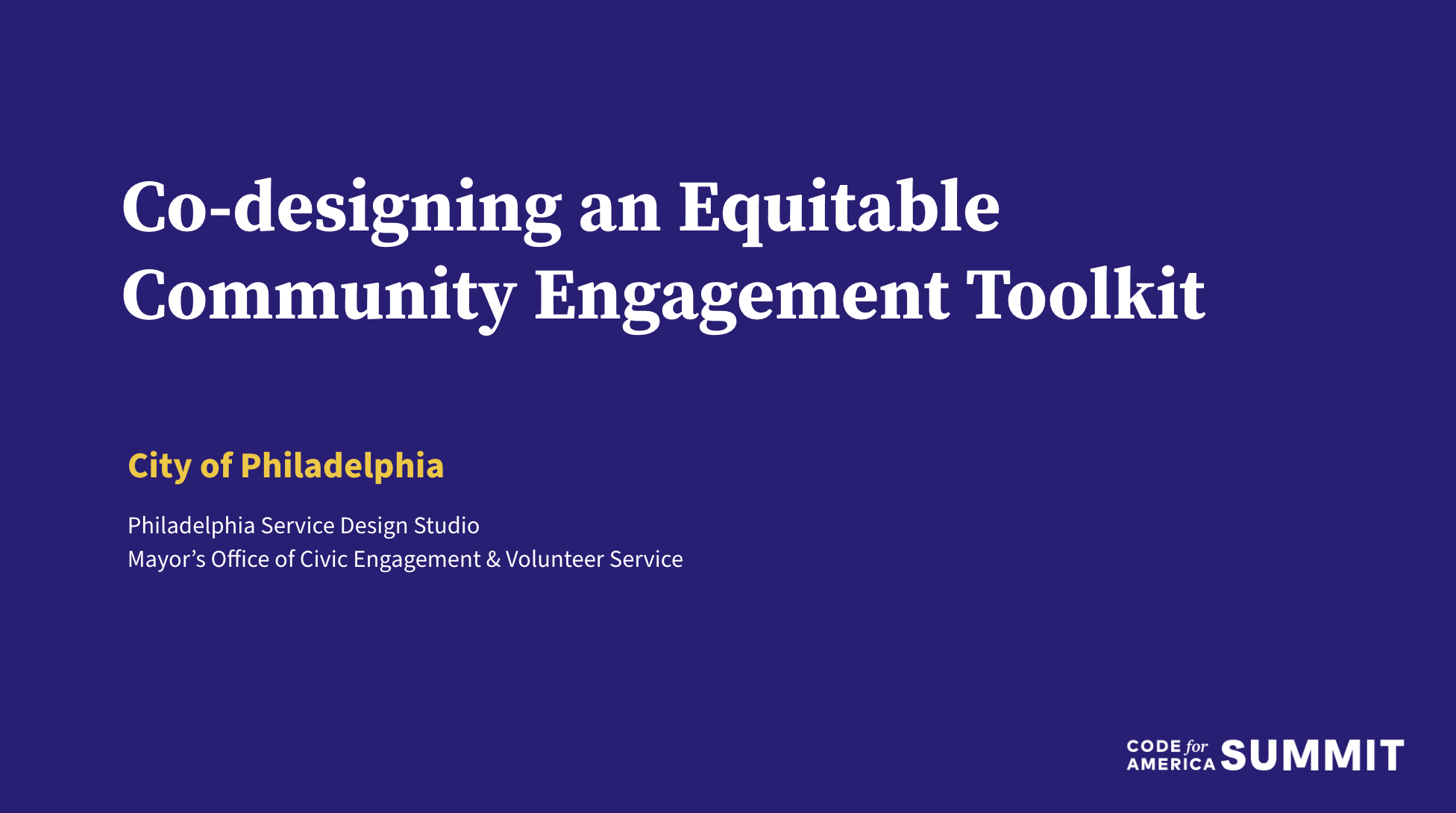 April 1, 2021, 6 PM - 7:30 PM:
Code for America Summit


Building a Practice of Equity-Centered Design:
A session offering perspectives around how three teams are approaching and working towards more equitable practices in government. From Philadelphia, The PHL Service Design Studio will share how they're collaborating with City employees, community-based organizations, and residents to co-design a Toolkit to strengthen equitable community engagement across Philadelphia.
April 1, 2021, 6 PM - 7:30 PM:
MICA's Mixed Media: Building New Futures at the Intersection of Design & Social Justice

The Center for Social Design at Maryland Institute College of Art (MICA) invited Denise Shanté Brown of Black Womxn Flourish to design and facilitate a two-part guided module, Design as a Pathway to Justice. To continue this conversation on design justice, Denise Shanté is hosting a public panel as part of MICA's Mixed Media Speakers series that will gather Wesley Taylor from Design Justice Network, Andrea Ngan from Creative Resilience Collective, and N'Deye Diakhate from Black Womxn Flourish.
︎ View the recording here.
November 12, 2020, 7 PM - 8 PM
University of Georgia's Lamar Dodd School of Art Studio Core Conversation

On Staying Together: A Collective Art and Design Practice in Pursuit of Healing JusticeThis presentation explores emergent strategies and case studies devised or experienced by the Creative Resilience Collective (CRC), a community group based in Philadelphia founded on design and disability justice principles working at the intersection of art, design, education, mental health care, research, and technology.